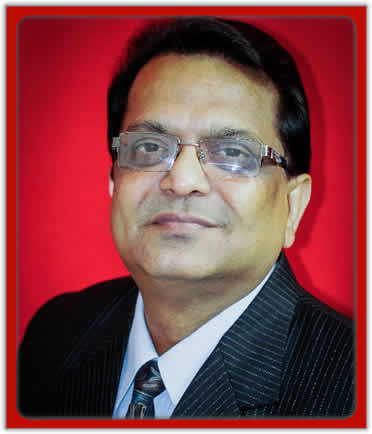 Dr. Himanshu Aeran, is a reputed academician, researcher and excellent clinician in the field of Oral and Maxillofacial Prosthodontics with more than 23 years of teaching experience. He acquired his Bachelor as well as Masters Degree in dental surgery from prestigious King George's Medical College Lucknow. He pursued various courses in the field of Dentistry like "Creative Esthetics… Designing Great Smiles", "Anchora & Precision Attachment" , "CAD-CAM hands – on training, "Occlusal Refinement" & "Integrated Implantology" from U.S.A & Germany. Recently he acquired Masters Degree in Hospital Administration. He conferred with Fellowships of International College of Dentist, Pierre Fauchard Academy, U.S.A. & International College of Continuing Dental Education, Asia Pacific. Dr. Aeran who believes in principle of "Freedom Lie within Discipline" received a Certificate of Excellence as Director in" 2nd Academic Brilliance Awards"-2014. He is a committed and popular teacher with his goal to train the youngsters with motto "Global leadership in human development, excellence in education and health care" for which he has been honored with "Most Proactive Academician of the year" & he also brought laurels to the institution by getting "Best Prosthodontic Department at National level" in Guident Excellence Awards.
Dr. Himanshu has 60 publications in various International, National and State Journals to his credit. He is currently member of Advisory / Reviewer Board of 12 Journals like Quintessence International Journal, International Journal of Scientific Study, Journal of Pierre Fauchard Academy, Journal of International College of Dentist, Journal of Indian Prosthodontics Society, Contemporary Clinical Dentistry, Indian Journal of Dental Sciences. He has been called regularly as Guest Faculty for Lectures and Hands On Courses in National/State level conferences and CDE Programmes. By seeing his unending enthusiasm, ceaseless efforts and continuous progress he has been awarded the "Prosthodontist of the year -2013" in Famdent Excellence in Dentistry award at Mumbai.
According to him Health is a state of physical, mental, social and emotional well being in which we function with comfort, confidence, creativity and contentment when leading and economically productive life. He always emphasis to provide best possible academic environment, so that the students graduating from the college would be competent enough to take care of society with humanitarian touch aiming "Service Above Self". Seema Dental College & Hospital has been awarded with Rotary International Vocational Award for its devoted community based dental health care programme.
Seema Dental College & Hospital Rishikesh with a team of dedicated well qualified and experienced faculty under the able guidance of Dr. Aeran strives to shape the career of aspirants, who join it, in such a manner that besides becoming excellent medical professionals they grow up to be good human beings with extra ordinary qualities and thus prove to be very useful members of the society at large.
Dr Himanshu Aeran
Director Principal
Professor & Head of Department of Prosthodontics
Phone no. : +91 9837 06 3005 | Email id. : This email address is being protected from spambots. You need JavaScript enabled to view it. , This email address is being protected from spambots. You need JavaScript enabled to view it.